Teflon Finishing Stain Resistant Suit Pants
Price
Sale price
$79.00
Regular price
Buy with as low as $26.33/m

DESCRIPTION

Teflon Finishing Stain-Resistant Suit is treated with a Teflon coating to make it resistant to stains and spills. Teflon is a type of polymer that creates a protective, non-stick coating on surfaces, which is well-used on cookware. We added Teflon to our suit finishing for the best easy care and stain resistant to make it easier to clean and maintain an impeccable appearance throughout the day.
MORE INFO

Product Code
3615202199
Gender
Men
Outer Composition
100% Polyester
Colour
Pitch Black
Care Instructions
Machine wash cold with like colors on a gentle cycle.
Remove promptly from the machine after washing.
Do not bleach or soak the garment.
Avoid using fabric softener.
Wash and iron the clothing on the reverse side.
Line dry the garment.
Cool iron if needed and use a press cloth on the iron.
Do not dry clean.
For best results, place the garment in a washing bag before washing.
When washing dark colors, wash them separately from light-colored garments.
For light colors, please avoid using detergent with optical whiteners.
DELIVERY

Standard Delivery - $4.99

Our current delivery will take between 2-4 working days.

FREE Standard Delivery when you spend above $79

Express Delivery - $5.99

Our current delivery will take between 1-2 working days for orders made before 12pm.

*Please note that delivery timing is only an estimate.

Working days are excluding weekends and public holidays

For more information, check out our FAQ.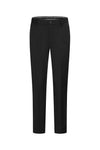 Teflon Finishing Stain Resistant Suit Pants
Pitch Black / Regular / 29 - $79.00 SGD
Pitch Black / Regular / 29 - $79.00 SGD

Pitch Black / Regular / 30 - $79.00 SGD

Pitch Black / Regular / 31 - $79.00 SGD

Pitch Black / Regular / 32 - $79.00 SGD

Pitch Black / Regular / 33 - $79.00 SGD

Pitch Black / Regular / 34 - $79.00 SGD

Pitch Black / Regular / 35 - $79.00 SGD

Pitch Black / Regular / 36 - $79.00 SGD

Pitch Black / Regular / 38 - $79.00 SGD

Twilight Ink / Regular / 29 - $79.00 SGD

Twilight Ink / Regular / 30 - $79.00 SGD

Twilight Ink / Regular / 31 - $79.00 SGD

Twilight Ink / Regular / 32 - $79.00 SGD

Twilight Ink / Regular / 33 - $79.00 SGD

Twilight Ink / Regular / 34 - $79.00 SGD

Twilight Ink / Regular / 35 - $79.00 SGD

Twilight Ink / Regular / 36 - $79.00 SGD

Twilight Ink / Regular / 38 - $79.00 SGD