Easy Care Stretch Short Sleeve Woven Shirt
Price
Sale price
$49.00
Regular price
Buy with as low as $16.33/m

DESCRIPTION

Wrinkle-resistant stretch fabric with an easy-care design that's perfect for daily commuting and running errands.
MORE INFO

Product Code
2113100268
Gender
Men
Outer Composition
48%Cotton 48%Polyester 4%Spandex
Colour
Deep Seafarer
Care Instructions
Machine Wash
Wash in washing machine using appropriate cycle and detergent.
DELIVERY

Standard Delivery - $4.99

Our current delivery will take between 2-4 working days.

FREE Standard Delivery when you spend above $79

Express Delivery - $5.99

Our current delivery will take between 1-2 working days for orders made before 12pm.

*Please note that delivery timing is only an estimate.

Working days are excluding weekends and public holidays

For more information, check out our FAQ.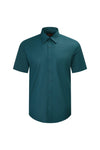 Easy Care Stretch Short Sleeve Woven Shirt
Deep Seafarer / Smart / 15 - $49.00 SGD
Deep Seafarer / Smart / 15 - $49.00 SGD

Deep Seafarer / Smart / 15.5 - $49.00 SGD

Deep Seafarer / Smart / 16 - $49.00 SGD

Deep Seafarer / Smart / 16.5 - $49.00 SGD

Deep Seafarer / Smart / 17 - $49.00 SGD

Deep Seafarer / Smart / 17.5 - $49.00 SGD