Dry & Sweat Wicking Shirt
Sale price
$89.00
Regular price

Buy with as low as $29.66/m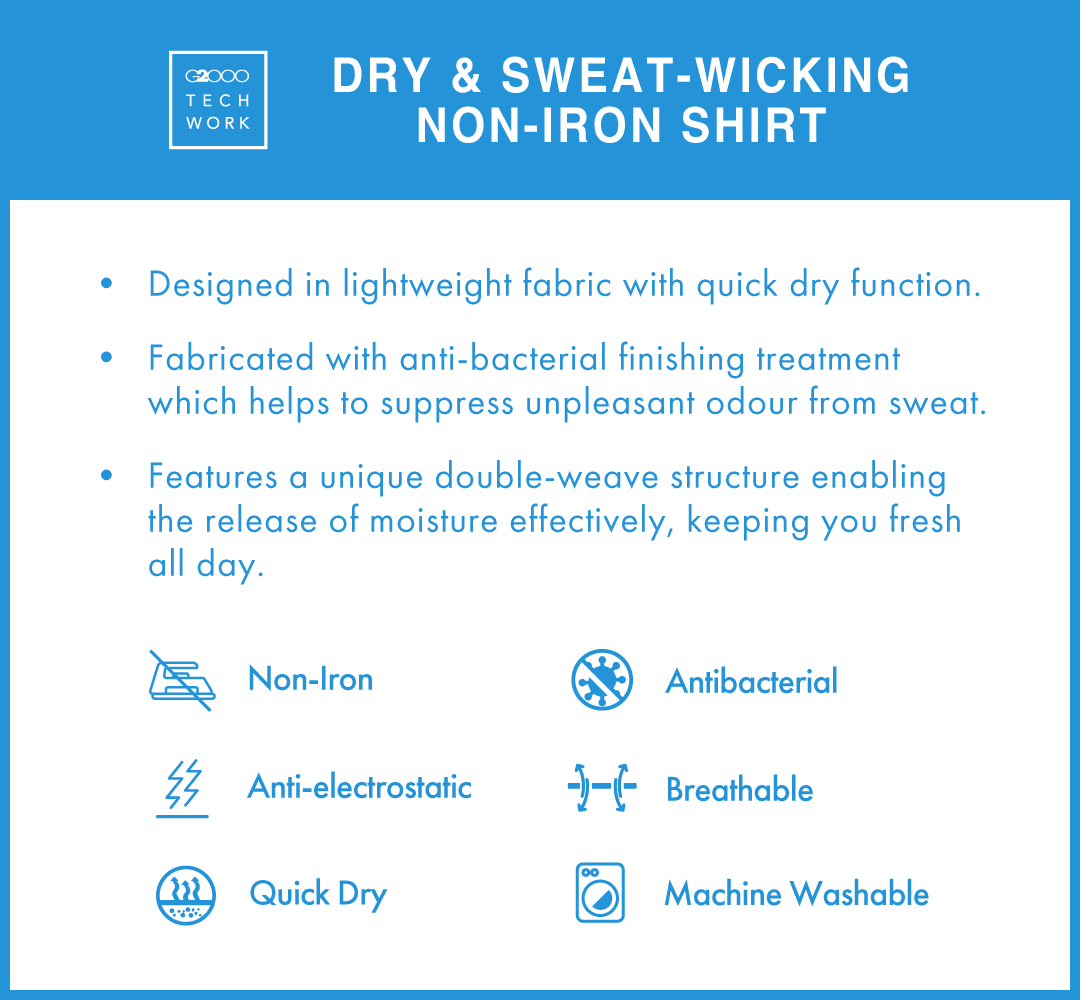 DESCRIPTION

Dry & Sweat Wicking Shirt is designed to be low-maintenance and easy to care for, as it doesn't require ironing. The quick-drying feature means that the shirt can dry quickly after being washed or after exposure to sweat or moisture. The sweat-wicking feature is designed to draw moisture away from the body, keeping the wearer cool and dry. Overall, this shirt is a comfortable and convenient option for those who lead an active lifestyle or who want a low-maintenance garment.
MORE INFO

Product Code
3612214248
Gender
Men
Outer Composition
100% Polyester
Colour
Green White
Care Instructions
Use a gentle cycle for machine washing.
Remove promptly from the machine after washing.
Avoid using bleach or fabric softener.
Line dry the garment.
If needed, use a cool iron.
Do not dry clean.
Machine wash cold, and when washing dark colors, wash them separately.
For light colors, please refrain from using detergent with optical whiteners.
DELIVERY

Standard Delivery - $4.99

Our current delivery will take between 2-4 working days.

FREE Standard Delivery when you spend above $79

Express Delivery - $5.99

Our current delivery will take between 1-2 working days for orders made before 12pm.

*Please note that delivery timing is only an estimate.

Working days are excluding weekends and public holidays

For more information, check out our FAQ.
Dry & Sweat Wicking Shirt
Green White / Smart / 14.5 - $89.00 SGD
Green White / Smart / 14.5 - $89.00 SGD

Green White / Smart / 15 - $89.00 SGD

Green White / Smart / 15.5 - $89.00 SGD

Green White / Smart / 16 - $89.00 SGD

Green White / Smart / 16.5 - $89.00 SGD

Green White / Smart / 17 - $89.00 SGD

Green White / Smart / 17.5 - $89.00 SGD

Hawkes Blue / Smart / 14.5 - $89.00 SGD

Hawkes Blue / Smart / 15 - $89.00 SGD

Hawkes Blue / Smart / 15.5 - $89.00 SGD

Hawkes Blue / Smart / 16 - $89.00 SGD

Hawkes Blue / Smart / 16.5 - $89.00 SGD

Hawkes Blue / Smart / 17 - $89.00 SGD

Hawkes Blue / Smart / 17.5 - $89.00 SGD